Welcome Healy Canada
Healy is new, Healy is different, Healy is a game changer!
Healy at a glance – Download your Healy Flyer:
Healy ordering process:
Link to order your Healy Edition:
https://canada.healy.shop/?partnername=9063-4082-7407
1. Click on the sponsor link above and confirm with the button YES, THIS IS MY REFERRER the correct sponsor number (9063-4082-7407). VERY IMPORTANT! If you don't see this pop-up, clear browser cache and cookies or use a different browser (private window).
2. Click on SHOP and EDITIONS
3. Choose the Healy Edition you wish – I highly recommend the Healy Professional Edition – and click ORDER NOW
4. Click ADD TO CART
5. Then click VIEW CART
6. Check your order and click PROCEED TO CHECKOUT
7. ACCOUNT TYPE: Choose BECOME AN INDEPENDENT HEALY WORLD MEMBER
8. Fill in your billing details, tick all 3 TERMS & CONDITIONS checkboxes, choose your preferred payment method (Credit Card or PayPal), tick the 2 checkboxes below (Right of Revocation, Privacy Policy) and then click PLACE ORDER
9. Done – Congratulations, your new healy is on its way to you!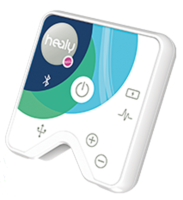 Notice: In Canada Healy is a medical device authorized for sale by Health Canada for the temporary relief of pain associated with sore and aching muscles in the shoulder, waist, back, neck, upper and lower extremities due to strain from exercise or normal household work activities and symptomatic relief and management of chronic, intractable pain and relief of pain associated with arthritis, neuralgia, myalgia and fibromyalgia. Healy also has non-medical applications that use Individualized Microcurrent Frequencies (IMF) that have not been reviewed or approved by Health Canada. The IMF programs of the Healy are not intended to diagnose, treat, mitigate or prevent a disease, disorder or abnormal physical state (or any of their associated symptoms), nor do they restore, modify or correct the body's structure or functions. The content on these pages is for information and educational purposes only. No health, medical or therapeutic information or advice is provided or intended to substitute for the diagnosis, treatment and/or advice of a healthcare professional. You should always seek such advice from a qualified healthcare professional.